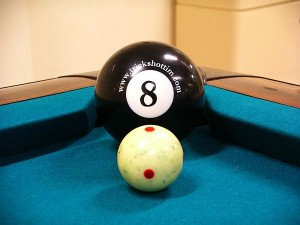 Product Features
Solid 8 ball: made of phenolic resin – the same stuff all tournament billiard balls are made of.
Huge: 11 cm or 4.33 inches in diameter. Will fit in the jaws of most table pockets. Not recommended for ball returns.
Heavy: Just under 3 pounds.
Beautiful: Semi-gloss surface for that professional finish.
8's on both sides: Now available with or without the www.trickshottim.com URL!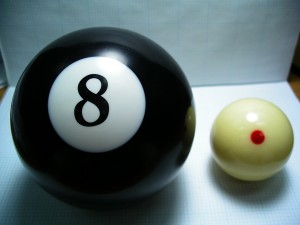 This billiard ball is great for:
Autographs look great on this ball with silver or gold metallic pens for signatures. The large ball has plenty of space for autographs.
Novelty gift for your favorite pool fan. Get them something unique!
Trick shots to impress your friends at the pool table. Eye catching prop!
Bocce balls are the same size and made of the same material, so you can take these from the felt to the green grass outside!
Trophies for league or tournament champions! An infinitely more memorable award than the player bent over the table trophy we all know and love!
Prices include shipping within USA.
Please
contact me
for international purchases.
Paypal preferred.
Cue ball shown for scale only. It is NOT part of the sale.